Murat Kaan Artiran, PhD.
Hello, thank you for visiting my personal page. On my blog, you can find information about my psychotherapy services, trainings I have given, the national and international scientific research I have done, and the books I have written. The fastest way to reach me.. please send an email to dr.muratartiran@gmail.com.
There are three groups of fields in which I have studied, worked, and conducted scientific research: 1) Rational Emotional & Cognitive Behavioral Therapy 2) Motivation 3) Clinical Psychology. I have been working on a psychotherapy approach that is Culturally Adaptable Motivational Cognitive Behavior Therapy last 8 years. I give preference to those who want to catch up with this approach and want to do research.
Associated Professor (Clinical Psychology)
Certified Rational Emotive & Cognitive Behavior Therapist, Albert Ellis Institute, New York
Director of Albert Ellis Institute- Turkey
Certified Trainer of RE & CBT by Albert Ellis Institute
Certified Supervisor of RE & CBT by Albert Ellis Institute
SERVICES
Clinical Psychologist from Turkey
I provide online psychotherapy. My focus is on emotional disturbances and psychological disorders. I specialize in individual therapy in all ages. Please be aware of I am not working with couples or family. For more information, please contact me or click the link. Turkish language speakers and English language speakers worldwide are welcome to psychotherapy.
Ethical warning:
If you have been diagnosed with a psychopathological disorder (e.g. Major Depression Disorder, Borderline Personality Disorder, Panic Disorder and others) and you do not live in Turkey, please seek face-to-face therapy from a clinical psychologist in your country. I do service only Turkish citizens. If you live in the United States, you can contact the Albert Ellis Institute or the Albert Ellis Institute partner centers in your country. Do not call for a prescription of any medicine; rather, please contact a psychiatrist.
Cost of each session: 50 USD
---
RE & CBT Teacher and Supervisor (online only)
If you're interested in Cognitive Behavior Therapy and Rational Emotive Behavior Therapy, you can contact me. Private lecture and supervision cost per hour is $100 USD.
If you have been trained by the Albert Ellis Institute as a REBT & CBT supervisor, SO you are welcome to apply for required RE & CBT supervision. Students who are trained by Albert Ellis Institute (primary practicum, advanced practicum, associate fellowship program, and supervisory practicum) are welcome to apply for required RE & CBT supervision.
---
Dissortation and Research Advice
Scientific researchers, who are interested in conducting studies on RE & CBT and as well as Structural Equation Modelling, can contact me. If you are looking for a dissertation advisor, You can email me.
The best way to contact me by email: dr.muratartiran@gmail.com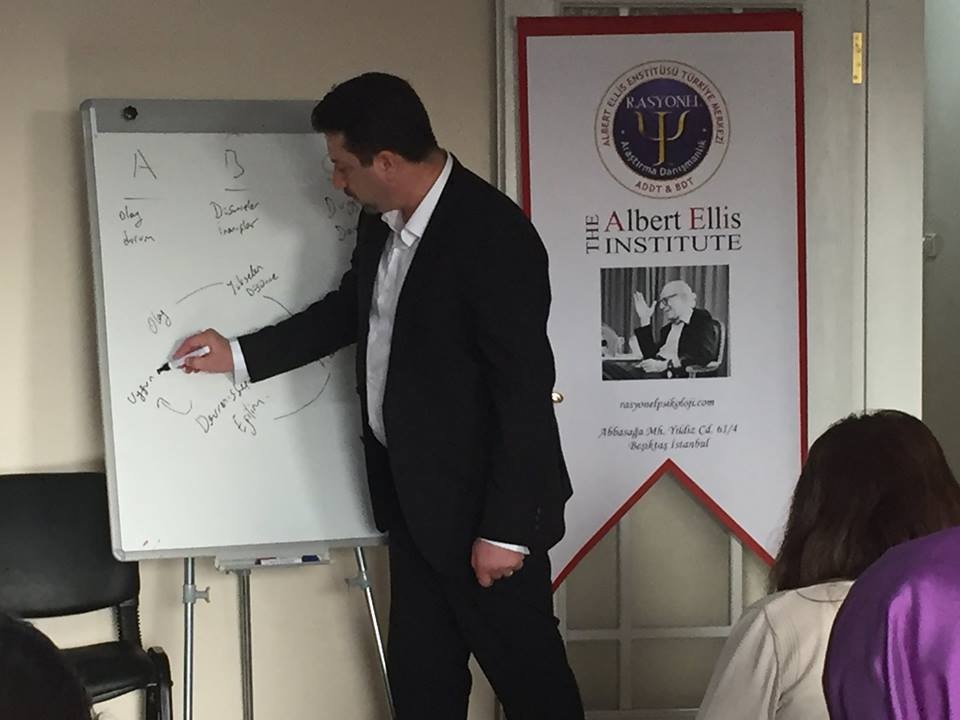 Recent Book
Order from USA : Amazon Kindle
---